Crisp, clear days, soft sunlight. Welcome to winter in San Francisco. What are You Doing this Weekend?
Living in the Bay Area we are lucky to be surrounded by natural beauty. We don't have to travel far to immerse ourselves in a variety of breathtaking surroundings. Expanses of empty beaches and trails (think Pt. Reyes), Redwoods (Mt. Tamalpais), and a bounty of nature adventures are available to us.
As much as we may be drawn to nature, we can also appreciate the scenic beauty of the city itself. With its hills, rugged coastline, iconic architecture, and general charm, San Francisco flow fluidly from structures to scenery, avenues to trailheads.
A great way to discover San Francisco is by taking an Urban Hike. There are numerous hikes within the city limits that allow us to see San Francisco from a new perspective: on foot. Urban Hikes wind us through the city, neighborhood by neighborhood, and remind us of what a magical city we live in.
These are a few of our favorite Urban Hikes in San Francisco.
Hidden Stairways
There are numerous hidden stairways and passageways in San Francisco, and even several housing enclaves that are only accessible by foot. The Filbert steps, for instance, connect the Embarcadero and Telegraph Hill. Along the way, there are benches, offshoot alleys, and lanes (Napier Lane). Numerous lush gardens run along either side of the steps, with colorful flowers and diffused light streaming through. There are numerous wood benches along the way to pause and soak it all in. You might just see a flock of
wild parrots
. Once you reach the top, you find yourself at the peak of Telegraph hill, a short walk to Coit Tower, and just a few blocks from North Beach and Chinatown.
There are countless hidden stairways in San Francisco. Do some research and rediscover your favorite neighborhood. Of note are the 16th Avenue colorful steps, and multiple stairways in Bernal Heights ascending to the Bernal Swing.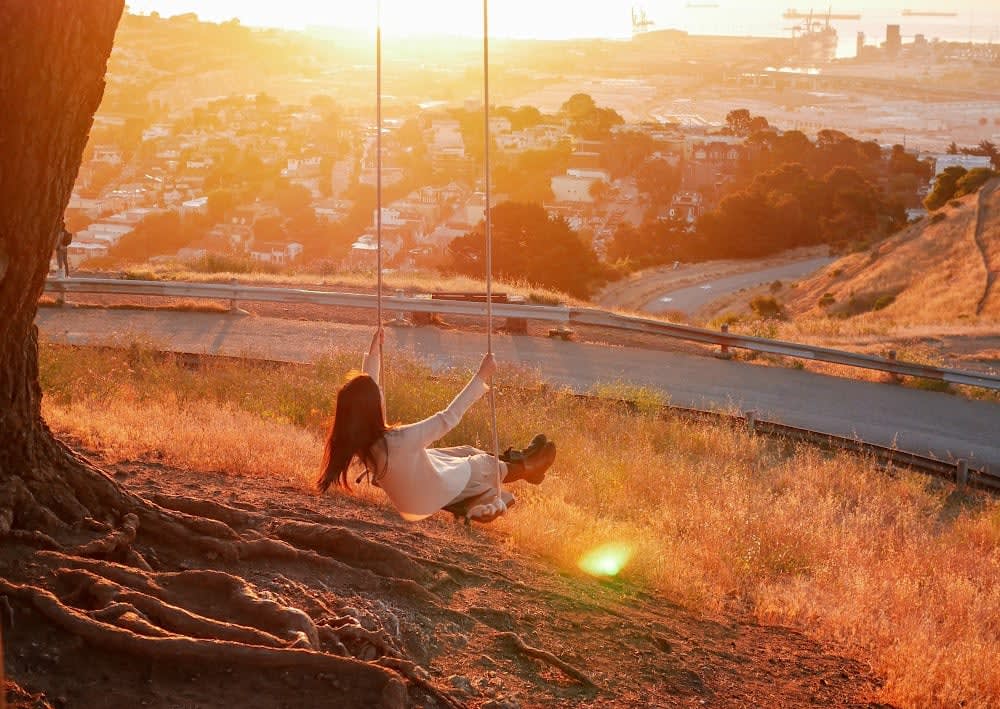 Lands End

Lands End is at the Northwest corner of San Francisco, just where the open Pacific funnels into the San Francisco Bay. Standing at Land's End the Golden Gate bridge is to your right, the Marin Headlands off to the north, the ocean to the west, and the Cliffhouse just a short walk away.
Lands end has multiple hikes, all of which are recommended. You can hike along the bluffs for the views, hike down for beach combing, or wind your way through the Presidio, forested with Cypress, pines, and Eucalyptus. Once an active military base, you can check out the buildings, homes, and quarters from the mid-century, now mostly private dwellings (ask Phillipa).
Click
here
for more information about trails and parking.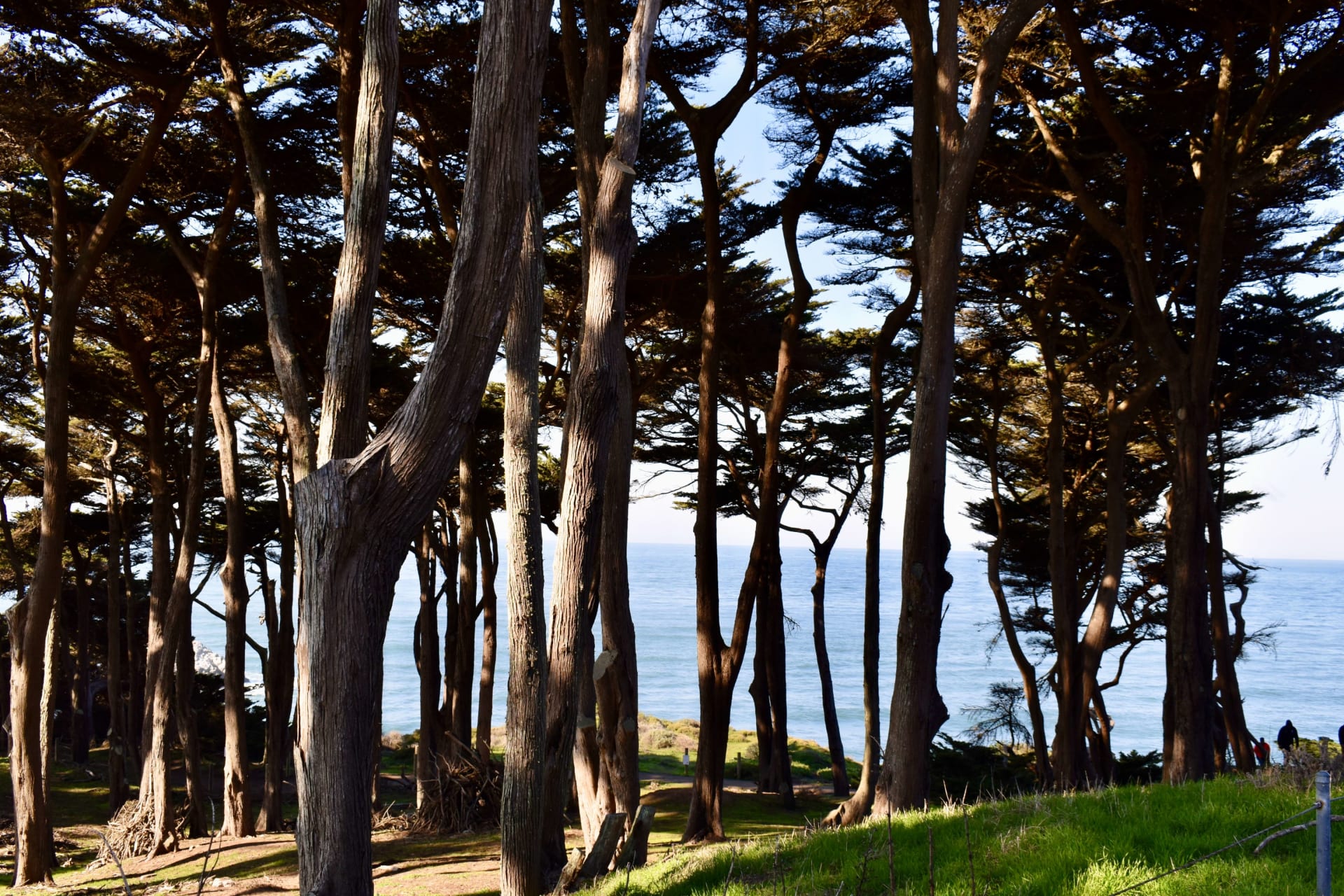 Crosstown Trail

If you are feeling more adventurous, the Crosstown Trail is for you. The Crosstown Trail (CT) is a 17-mile urban hike spanning from the southeast to the northwest, with parks, shopping, views, steps, trails, backroads, and all the rest. It is broken into 5 sections, each an adventure on its own.
Here is a list of the sections, with a brief description:
Section One

Candlestick points to Mclaren Park via Visitacion Valley. This is the road less traveled in San Francisco. It is filled with views, discoverable neighborhoods, and restaurants, and you won't see it on a postcard. Highly recommended.
Section Two

Glen Park Canyon and Laguna Honda Trail. Like section one, you will get to see an often overlooked part of the city. This is a nature trail, and you may well forget you are in the city limits as you wind over grassy knolls and forested ravines. 3.1 miles.
Section Three

More great views, the 16h Avenue steps, and neighborhoods. For tourists and locals alike, this section of the trail offers an uncommon route, with peeks into the day-to-day communities and neighborhoods we love. 2.1 miles.
Section Four

What citywide hike would be complete without visiting Golden Gate Park? Feel free to blaze your trail in the park and explore its many wonders. This section is a hike unto itself. Enjoy. From the park, you exit out into the Richmond District, where you are reminded that San Francisco is a beach town after all. 2.2 miles.
Section Five
Presidio and Lands End. We covered this earlier, and here you will find artisan shops, restaurants, and joints, China Beach, Baker Beach, the grandeur of SeaCliff, views, and more views. 3.8 miles. Click
here
for details about the Crosstown Trail.
In addition to appreciating a beautiful urban hike, Phillipa Criswell is an expert in Bay Area real estate. When it comes time to buy or sell in San Francisco or Marin County, please contact Phillipa.