I am pleased to share with you our latest Market Report for the San Francisco Bay Area. The report begins with economic and real estate commentary presented in partnership with the Rosen Consulting Group (RCG). For the statistical report of the regional housing market, we look at the ten counties associated with the SF Bay Area, focusing primarily on detached single-family homes, with added coverage of the significant condominium market in San Francisco. Enjoy the information and insight provided in the report and I look forward to discussing the market with you.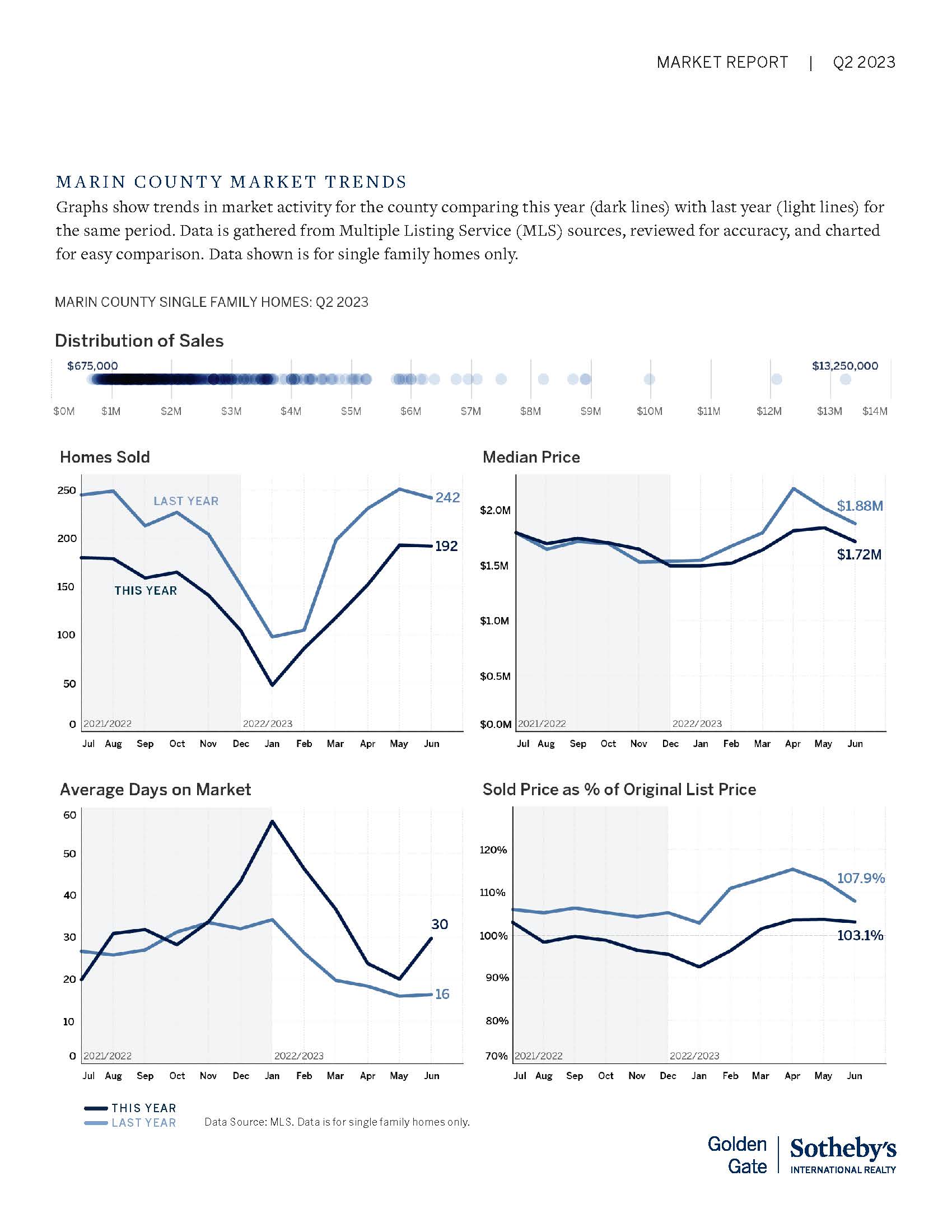 A REBOUNDING MARKET
The SF Bay Area housing market rebounded during the second quarter, with sales accelerating each month within the quarter and pricing recovering in most neighborhoods. The regional economy also continued to expand, with a net increase in employment and higher wages despite tech industry layoffs. In the first half of the year, roughly 100,000 jobs were created throughout the SF Bay Area and the unemployment rate remained in the low-3% range. The tight labor market continued to drive income growth, helping to improve housing affordability even as mortgage rates rise. While migration out of the region continues, job prospects attracted new residents to take their place and some households that left the SF Bay Area in recent years returned.
MORE HOMES SELLING
Sales volume in the second quarter increased to roughly 10,700 homes sold, an increase of 57% from the first quarter, underscoring that buyer demand persists despite higher mortgage rates. While aggregate sales were lower than one year ago, part of this can be attributed to the lack of inventory constraining buyer options. The number of closed sales increased from the first quarter in every county in the SF Bay Area, led by Marin County where sales more than doubled. Though the smallest increases were in Napa and Solano counties, sales in these areas still increased by roughly one-third from the previous quarter.
LOOKING AHEAD
Despite economic headwinds, moderating inflation and still-strong labor market should continue to support accelerating sales activity. With limited inventory expected through the remainder of the year, pricing should stabilize. Buyer competition may increase further, with a growing share of homes sold above the list price through the summer buying season.