I am pleased to share with you our latest Market Report for the San Francisco Bay Area. The report begins with economic and real estate commentary presented in partnership with the Rosen Consulting Group (RCG). For the statistical report of the regional housing market, we look at the ten counties associated with the SF Bay Area, focusing primarily on detached single-family homes, with added coverage of the significant condominium market in San Francisco. Enjoy the information and insight provided in the report and I look forward to discussing the market with you.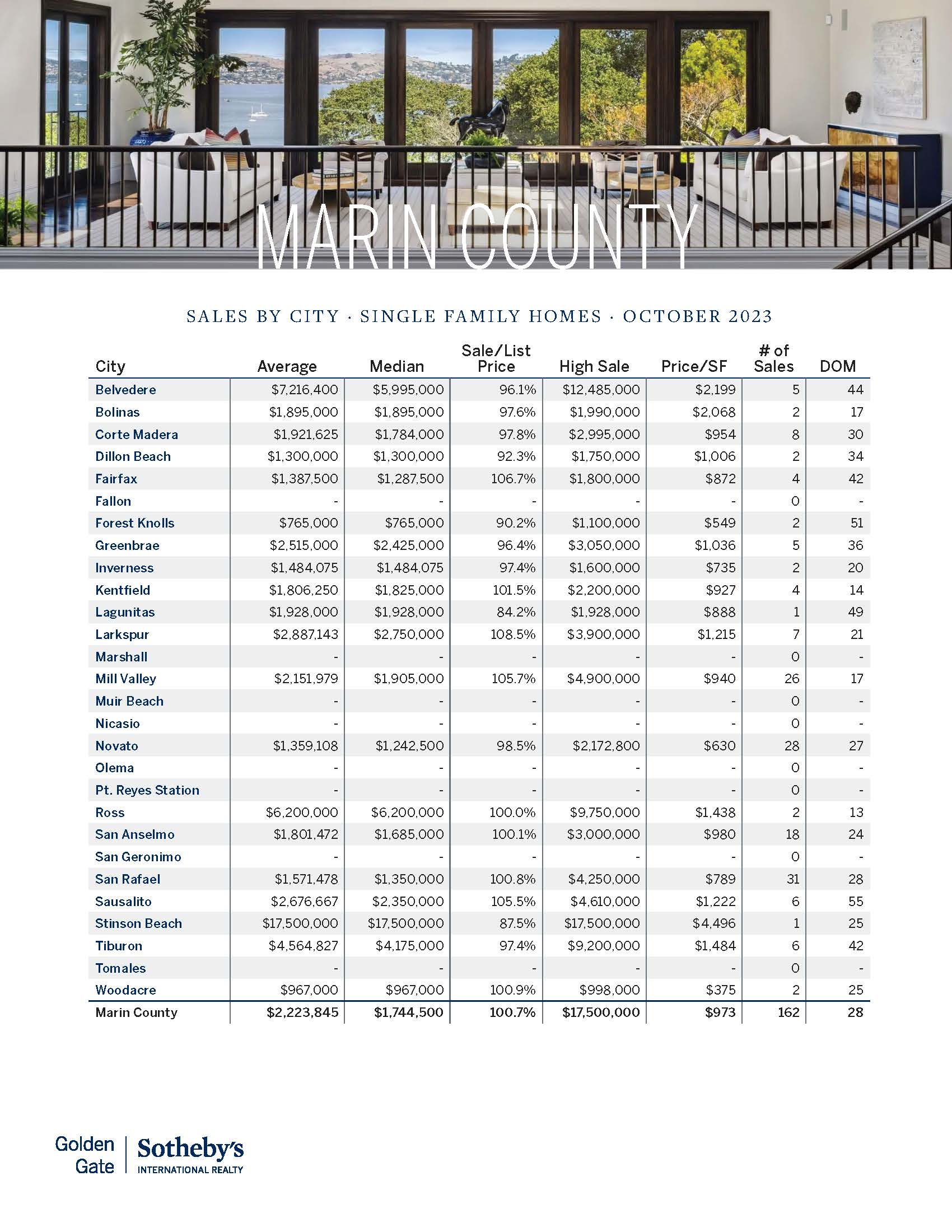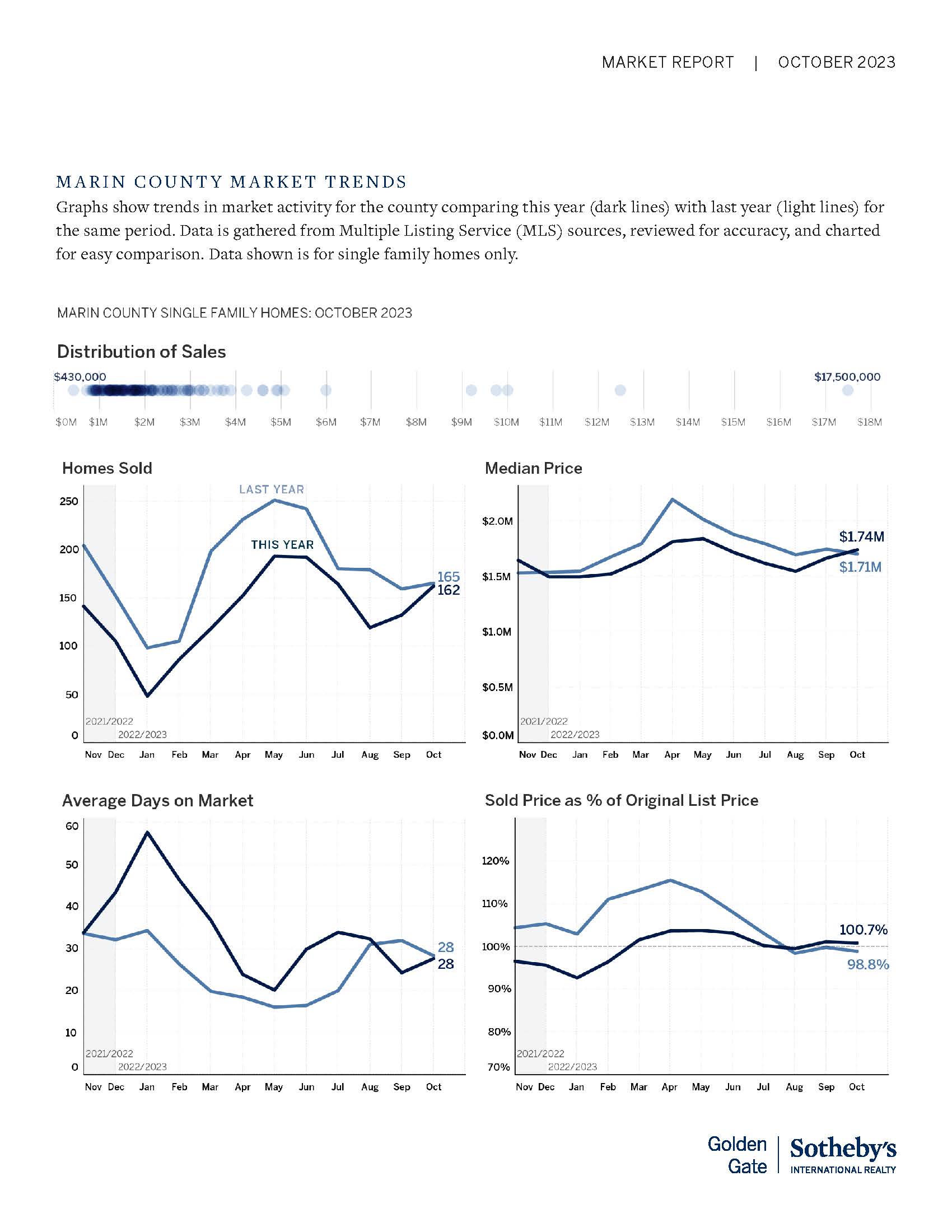 A RESILIENT REAL ESTATE MARKET
As the fourth quarter began, the SF Bay Area single family home market remained resilient. Though higher mortgage rates dampened some buyer demand, pricing stabilized across many neighborhoods in the region. Through early fall, the unemployment rate ticked up to the high-3% range as some workers impacted by previously announced layoffs became eligible to file unemployment insurance claims. Despite the increase, the labor market in the region remained tight and wages continued to increase. The combination of jobs and income growth should continue to support demand for homes throughout the region.
SALES SHOW UPWARD MOVEMENT
Sales volume rebounded from the September lull to approximately 3,300 homes. The number of homes sold in the SF Bay Area increased by 9% compared with last month. The recent improvement in inventory helped to drive a portion of the increased sales. The most substantial increases in homes sold occurred in Marin, Napa and San Francisco counties. Sales increased in all counties during October, though Alameda and San Mateo counties were virtually unchanged.
Throughout the pricing spectrum, sales activity improved in the SF Bay Area. The number of homes sold for more than $3.5 million increased by 6% in October while mid-priced home sales increased by 7%. The largest increase in sales occurred in the lower price tiers as the number of sales of homes priced less than $1.2 million increased by approximately 11%. By county, the improvement in sales was varied across the pricing spectrum. In San Francisco, sales of homes priced more than $3.5 million doubled from last month. Mid-priced home sales increased substantially in Napa and Sonoma counties.
INVENTORY LOWER THAN LAST YEAR BUT STILL STABLE
For-sale inventory remained stable in October, though compared with last year fewer homes were available in the broader region. Though many owners have built-up equity in their homes over the years, current mortgage rates higher than the in-place mortgage for many existing homeowners constrains new for-sale listings. Examining local activity, inventory decreased in Marin, Napa, San Francisco, Santa Cruz and Sonoma counties. For-sale inventory increased moderately in Contra Costa and Solano counties.
LOOKING AHEAD
SF Bay Area housing market conditions should hold steady through the remainder of the year. For-sale inventory is expected to remain stable even as homes may take longer to sell. Many potential buyers have acclimated to mortgage rates that may remain higher for longer, which may lead activity to accelerate in line with fluctuations in rates. The push by many employers for a return to office combined with increased traffic congestion continues to funnel a growing share of buyer demand to the inner SF Bay Area and neighborhoods with access to transit.
VIEW THE FULL SAN FRANCISCO BAY AREA MARKET REPORT HERE
About Golden Gate Sotheby's International Realty
Golden Gate Sotheby's International Realty has over 465 agents in 23 offices throughout the San Francisco Bay Area serving the counties of Alameda, Contra Costa, Marin, Napa, San Mateo, Santa Clara, Santa Cruz, Solano, Sonoma, and San Francisco.
About Rosen Consulting Group
Rosen Consulting Group was founded in 1990 by Dr. Kenneth T. Rosen to provide objective real estate market and economic advisory services. Today, Dr. Rosen and Randall Sakamoto are the partners and active managers of the firm consisting of 18 advisory professionals. In addition to serving as Chairman of RCG, Dr. Rosen is Chairman of the Fisher Center for Real Estate and Urban Economics and Professor Emeritus at the Haas School of Business at the University of California, Berkeley.