While filming the hit Apple TV+ show "The Last Thing He Told Me" in the scenic town of Sausalito, famed actress, Jennifer Garner, discovered a culinary gem, one of my favorite restaurants here in Marin, that has now become the talk of the town - Poggio Trattoria
Poggio Trattoria prides itself on serving authentic Italian fare, crafted with passion and precision. From homemade pastas to mouthwatering seafood dishes, each plate exudes the essence of Italian gastronomy. Garner, known for her love of healthy and delicious food, was immediately drawn to the restaurant's commitment to using fresh, locally sourced ingredients. It was not long before she became a regular at the restaurant, savoring the flavors of Italy alongside the locals.
In a recent article in the Marin IJ, writer Jeff Burkhart caught up with Poggio partner Michael Mindel to hear just how much Garner has made an impact on their business. Read on for some of the questions he asked Mindel.
Q: The book's main character lives on a houseboat in Sausalito. In the book, author Laura Dave mentions Poggio several times. How did you find out?
A: Morgan Peterson (our manager) was the first one to hear, from a guest, that we were mentioned in the novel when it was first published. She immediately notified me and Amy Svendberg (Poggio's general manager) about it and I went to the bookstore across the street that day and bought all their copies. We had countless people tell us initially when the book came out and it also really picked up as the series premiere approached. What's been amazing is that, in the book, they never actually step foot in the restaurant but simply fondly mentions it a couple of times. We were delighted to be spoken of so kindly.
Q: The main character Hannah (played by Garner in the show) recreates a Poggio"pasta for her stepdaughter Bailey's birthday >> "homemade multigrain linguini in a brown butter sauce." Is there such a pasta on Poggio's menu?
A: This is where things get a bit strange. The dishes mentioned in the book have never appeared on our menu. It is a work of fiction after all. However, after the series premiered, chef Ben Balesteri reverse-engineered a dish that is a buckwheat pasta with brown butter. The description seemed a bit plain to him, so he added some spring vegetables to the dish and it's been a top-selling pasta since we added it to the menu a few weeks ago.
Q: When Jennifer Garner visited Poggio, what did she order?
A: On her first visit, she started with the schiacciata, a wood-fired "topless pizza," which she ordered every time she came in. She said she made a similar dish at home for her kids in her own woodfired oven but it never came out quite as tasty as our version. She mentioned that to her server at one dinner, Karls, who immediately suggested she bring her kids to Poggio. She also enjoyed our sformatino and a vegetarian version of our bucatini when Karls waited on her. When he asked if they were interested in discussing dessert, Jennifer said >> "Karls, we can either be friends and you will not offer me dessert, or we cannot be friends if you leave these menus with us." Karls quickly gathered up the menus and is now officially friends with Jennifer Garner!
Q: There is now a "The Last Thing He Told Me"-themed cocktail on your menu. How did that come about and what inspired its creation?
A: Another strange twist. This is more of a Jennifer Garner-inspired cocktail than related to the novel or show. On her last day filming here, Jennifer drove by in the truck that she drove in the Sausalito part of the series and yelled out of the passenger-side window, "Goodbye Poggio, I love you!" as she went driving past, which was really hilarious as we had a completely full patio at the time and we had to explain who that was and why she was yelling. Interestingly, she never drank anything with alcohol, even though she is wellknown for her appreciation of wine and tequila. So, when our mixologist Jorge Canche was developing our spring cocktails, he and Amy came up with Jennifer Ti Amo as our way of expressing our love for her and our appreciation for the kindness she bestowed on Poggio. The staff is pretty excited to be associated with such a popular series and such a beloved celebrity as Jennifer Garner. She was charming to every staff member and tipped really well.
Jeff Burkhart is the author of "Twenty Years Behind Bars: The Spirited Adventures of a Real Bartender, Vol. I and II," the host of the Barfly Podcast on iTunes (as seen in the NY Times) and an awardwinning bartender at a local restaurant. Follow him at jeffburkhart. net and contact him at [email protected]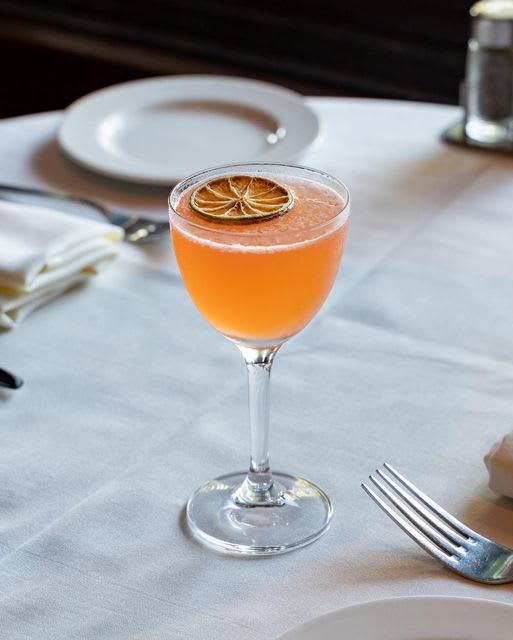 PHOTO BY DASHIEL MINDEL
Jennifer Ti Amo Recipe as seen in the Marin IJ
1 ¾ ounces mezcal
1 ounce elderflower liqueur
¼ ounce Aperol
1 ounce fresh-squeezed lime juice
Dried lime wheel
Combine the first four ingredients with ice in a cocktail shaker and shake until cold. Strain into a chilled Nick and Nora glass. "Gar- nerish" with dried lime wheel. Note: The drink means "Jennifer I love you" in Italian.
Visit Poggio Trattoria and get a taste for yourself!
Article Source: Marin IJ | Wednesday, May 24, 2023